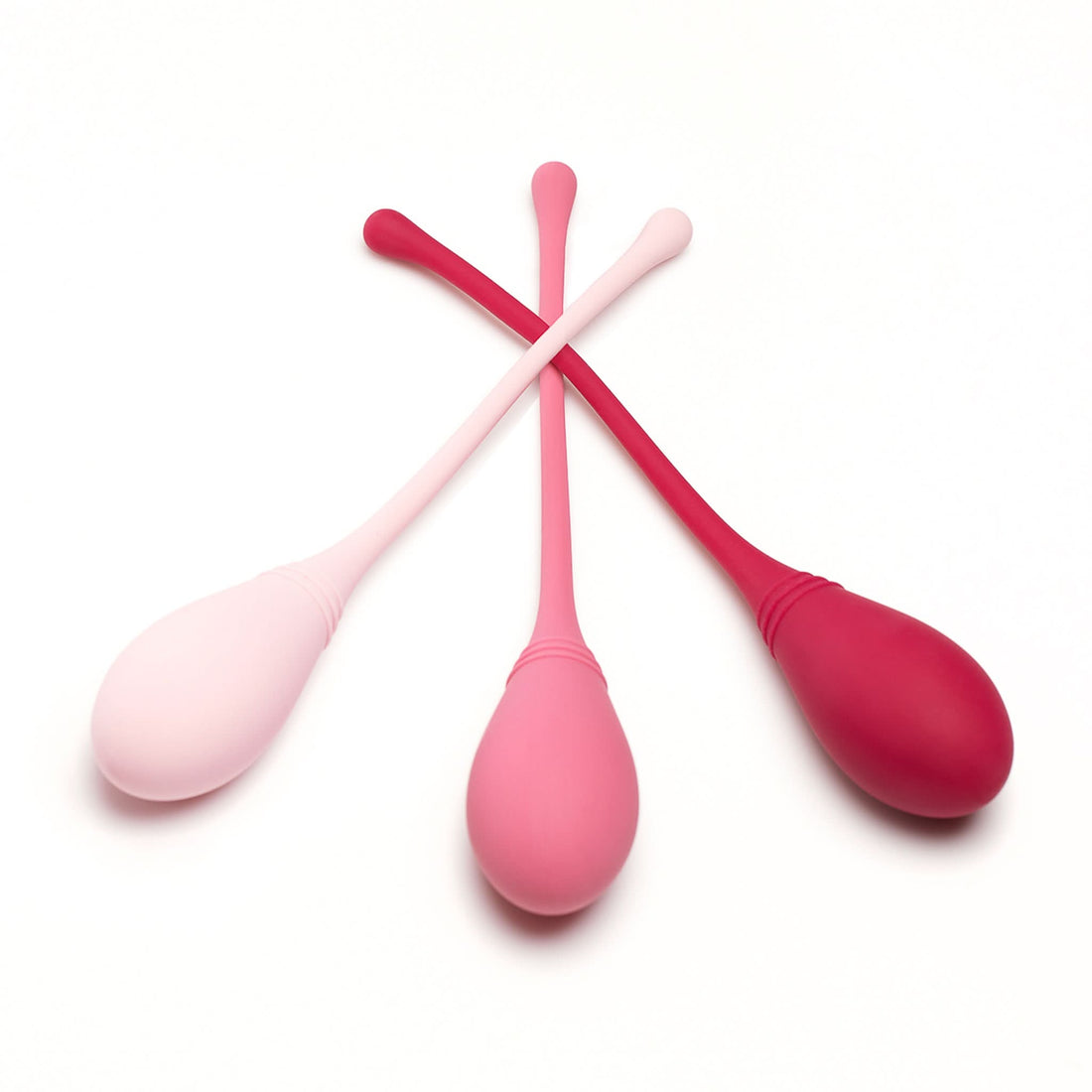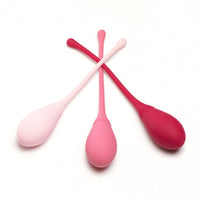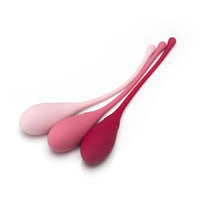 Description
Specifications
Explore potential intimate health benefits with our SELF + JIMMYJANE Kegel Trainers, a three-piece Kegel trainer kit designed to promote a stronger pelvic floor. Weighted steel balls inside each smooth silicone Kegel trainer create subtle natural vibrations in response to your body's movements. Get more in touch with your body courtesy of this secret sensual accessory.
Ergonomic — Curved to hug contours
Internal Use – Weighted Kegel balls call you to privately tune into your body
Increased Confidence — Developed to help protect against sudden leaks
Flexible Silicone Tail — Designed for easy insertion and removal
Pelvic Floor Exercises — Give your most intimate muscles a workout
High-Quality Silicone — Comfortably smooth for all-day wearability
Waterproof — Fully submersible, bath-friendly and easy to clean
Read More:
The Benefits of Masturbating with Sex Toys
How to Reduce Refractory Period?
Size
Kegel Length: 6.5 in. (16.5 cm)
Kegel Diameter: 1.1 in. (2.9 cm)
Insertable Length: 2.2 in. (5.5 cm)
Tail Length: 4.3 in. (11 cm) 
Small Kegel Weight: 30 g.
Medium Kegel Weight: 60 g.
Large Kegel Weight: 90 g.
Material
Usage Instructions
Slowly insert the trainer inside the vaginal canal leaving part of the stem outside of the body for easy removal. Apply a few drops of lubricant such as SELF + JimmyJane Water-Based Lubricant as necessary. For a count of three, tighten your pelvic floor muscles as though you're stopping urination midstream. Release for a count of three. Work up to 10 to 15 repetitions three times a day. For a more specialized regimen catered to your needs, speak with a health care provider.
Cleaning Instructions
Upon removal, rinse with cold water. Next, rinse with warm water and if desired, use a mild, fragrance-free soap. Rinse well with warm water prior to reinsertion.
Warnings
This set is not a toy. If you experience any pain or discomfort, discontinue use and immediately consult a physician. If you have a pacemaker or are pregnant, please consult your doctor before using this product. Prior to use, read all warnings and follow directions provided. Keep out of reach of children. Choking Hazard. Small Parts. — Not for children under 3 years or any individuals who have a tendency to place inedible objects in their mouths.