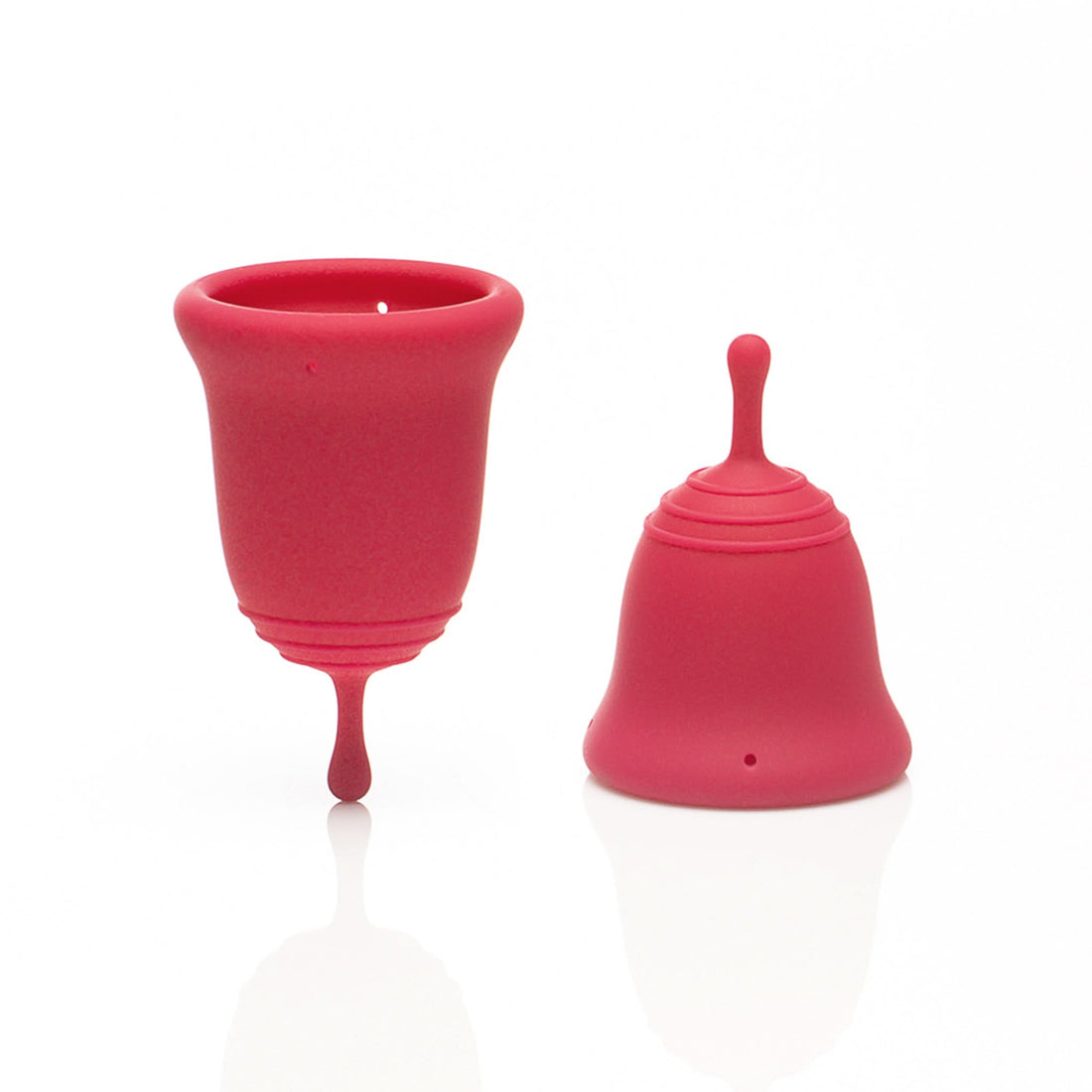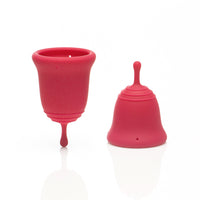 Description
Specifications
Manual
Progressive period care by design. We know you're busy. SELF + JimmyJane's silicone Menstrual Cup Set offers a comfortable period care solution for your active lifestyle. Created with comfort and extended wear in mind, the bell-shaped curves hug contours, while the ergonomic rim works to prevent leakage. Conveniently flexible for easy insertion, removing your cup couldn't be simpler with strategic anti-suction holes that allow for a gentle break of seal suction.
Comfortable Rims — Fuller ergonomic rims have supple, curved edges for a snug seal and ultimate comfort


Anti-Suction Holes — Strategically-designed holes allow you to gently break the air-tight seal


Capable Capacity — Two different cup sizes offer options to accommodate varying flows


Resilient Material — Hygienic silicone is soft and flexible for all-day wearability


Waterproof — Fully submersible, bath-friendly and easy to clean


Easy Storage — Moisture-wicking bag creates breathable storage
Read More:
Romantic Couples Massage Technique
The Benefits of Buying and Using Vibrating Underwear
Is Safe to Use a Vibrator While Pregnant?
Small Cup Size
TotalLength: 2.2 in. (5.5 cm)
Cup Length: 1.6 in. (4 cm)
Diameter: 1.7 in. (4.3 cm)
Capacity: 14 mL
Medium Cup Size
TotalLength: 2.6 in. (6.5 cm)
Cup Length: 2 in. (5 cm)
Diameter: 1.8 in. (4.5 cm)
Capacity: 21 mL
Material
100% FDA-cleared silicone
Usage Instructions
Use both hands to flatten the cup and fold the sides of the cup together to form a "U" shape. With a finger, push the rim down into the cup towards the stem and pinch the folded sides together. Once folded, hold firmly with one hand. Gently separate your labia with your free hand and insert your menstrual cup into your vaginal canal. Direct it toward your tailbone and not directly towards your cervix. Continue to insert the cup until the stem is even with the vaginal opening and is not protruding. Do not push your cup too far into the vaginal canal. This will hinder removal and may cause leakage.
Cleaning Instructions
Upon removal, empty contents and rinse with cold water. Next, rinse with warm water and if desired, use a mild, fragrance-free soap to cleanse your cup. Rinse well with warm water prior to reinsertion.
Warnings
This set is not a toy. If you experience any pain or discomfort, discontinue use and immediately consult a physician. If you have a pacemaker or are pregnant, please consult your doctor before using this product. Prior to use, read all warnings and follow directions provided. Keep out of reach of children.
Choking Hazard. Small Parts. — Not for children under 3 years or any individuals who have a tendency to place inedible objects in their mouths.