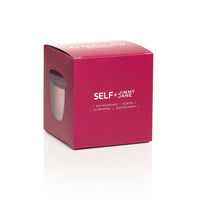 Massage Oil Candle - Seaside Neroli
Description
Specifications
Our Seaside Neroli Massage Oil Candle will stimulate your senses and seductively nourish your skin. Once melted, the natural soy wax can be poured directly onto the skin for mind-blowing experimentation. Get enveloped by notes of juniper, citrus, neroli flower, amber sands and the crispness of Himalayan sea salt.
Made with Soybean Oil, Shea Butter, Palmarosa Oil, Jojoba Oil, Aloe Vera, Vitamin E, Fragrance
Ultra hydrating
Illuminating and scented
Great for couples' play
Up to 32 hours of clean-burning
Made In The USA
Read More:
How to use Massage Sex Candles?
Intimate Massage for Better Health and Stronger Orgasms
Is Foreplay Important In a Relationship and Why?
Size
Candle Height: 2.5 in. (7.2 cm)
Candle Width: 2.7 in. (8.8 cm)
Candle Depth: 2.7 in. (7.6 cm)
Lid Width: 9.3 cm
Lid Depth: 7.8 cm
Lid Height: 1.1 cm
Fill: 4.5 oz. (127 g)
Weight: 0.7 lbs (11.7 oz)
Ingredients
Soybean Oil, Shea Butter, Palmarosa Oil, Jojoba Oil, Aloe Vera, Vitamin E, Fragrance
Usage Instructions
Carefully light the candle wick. Wait 10-15 minutes for the oil to melt while you enjoy the aromatherapy. Gently extinguish the flame — do not use water. Pour the body-temperature oil directly onto the skin or dip your fingers directly into the candle to begin your massage.
The silicone lid doubles as a non-slip base for the candle to sit in, so you can securely place the candle bedside or on any flat surface without risk of it sliding off.
Use
Aromatherapy, Illumination, Massage and Skin Care
Warnings
To avoid risk of fire, keep candle flame a safe distance from combustible materials. Never leave a burning candle unattended. Keep candle out of reach of children and pets. To avoid discomfort or burns, always extinguish candle prior to using the oil. For use by and on adults only. Keep wax off of face and sensitive skin. Discontinue use if skin is irritated. Do not touch the flame. For external use only. STORE AT ROOM TEMPERATURE.